ESCONDIDO RECREATIONAL COMMENCES
Competitive League Season
We are currently about five weeks into our competitive league season with many Heat teams sitting in the top 3 positions in their division. This is something that we work very hard towards every season, where games are played every weekend at home and away against many teams we have not yet played against this year. Coaches, players and parents keep a sharp eye on their standings as every team wants to do well.
Teams playing in the Presidio League have good competition this year as many of the divisions were rebuilt prior to the start of the season. Our young GU8 team coached by Brian Blake and assisted by Don Myers have made a tremendous impact, with only one loss to date and sitting at the top of their division, a great showing from a brand new team of our youngest girls.
Teams playing in the SDDA have also shown well with very close games in all categories. The difference between Presidio and SDDA is that at the half-way point in the SDDA season, teams play in a Showcase tournament against each other. They also repeat the process at the end of their season, where coaches from all over watch the games. This is great exposure for our players.
One distinct noticeable difference has been the poor quality of some of the fields that we sometimes have to play on when we play away in both leagues, especially in the South County. It makes us all feel very fortunate to have Ryan Park as our home.
Our older BU17 team coached by the Valle brothers are playing in CSL on the coast against higher caliber teams, they currently are sitting 1 Win, 1 Tie, ! Loss. This is a very strong team that hopes to compete in the Dallas Cup. In order to raise money for their trip they are hosting a 3 v. 3 tournament at Ryan Park – see details below. To see this team play against Albion, who are top of the table, show up at Ryan Park, field 6 at
8 am
on Saturday, 10th of October2015, it should be a great game.
Plans are coming together well for our competitive side of the club. Next year we plan to offer more services to gradually move FC Heat Elite to Academy status. Part of that program is to teach coaches and captains of teams the correct warm-up exercises prior to game time.
Coaches Matt and Alicia from The Catalyst Training Center came by last week to do just that and to give us a class on this very subject. This was well received and certainly an eye opener for many of us. We learned not just how to do stretches and warm-ups, and in what order to do them, but we learned also what not to do, especially in regards to stretching girls legs out. As most of you know, females are built a little differently and it is important not to put too much pressure on their knees. All of this was very useful information.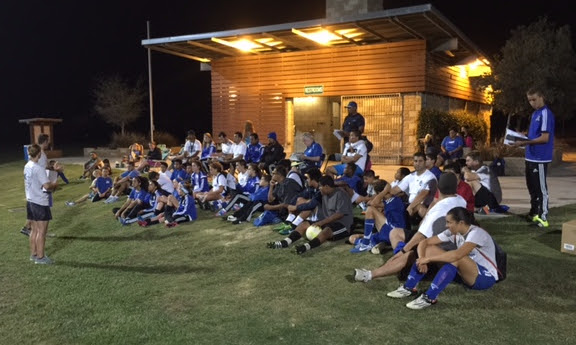 Coaches from The Catalyst Training Center teaching
Heat coaches and captains warm-ups
Also in the pipeline this year are two tournaments at Ryan Park. These are still in the planning stages but should be taking place in November.
The first of these tournaments is on November 8, 2015, a 3 v. 3 "Bring the Heat" tournament where teams of 4 players (3 v. 3 + 1 sub) will compete for the grand prize in their age groups This is open from U8 to adult 17+ and even coaches if there are enough teams. The registration fee is $100 and proceeds will go to help our BU17 team compete in The Dallas Cup. Please read the registration form below, fill out and submit if interested.
Our other tournament in the planning is tentatively scheduled for Sunday,November 15th, 2015. This tournament is low key with the only registration fee being a brand new toy from each competing player. All collected toys will be distributed to an orphanage in San Diego for Christmas. Stay tuned for more details about this event later.
RECREATIONAL ALL-STAR TRYOUTS
Our Recreational League at Ryan Park is well under way with teams competing well and many players learning the basic fundamentals of the game. There have been some great games this year with coaches concentrating on the most important aspects like player development and sportsmanship.
In November we will be having tryouts for our All-Star Teams in each age group. These teams will be formed and led by coaches to compete in tournaments against other clubs. Players will be nominated by their coaches to attend these tryouts. Please see the flyer below…
BU14 Team coached by Steve Yorke and Arturo Duarte –  Hostspurs Champions
6 Tournaments and 6 finals with only 1 loss for this team!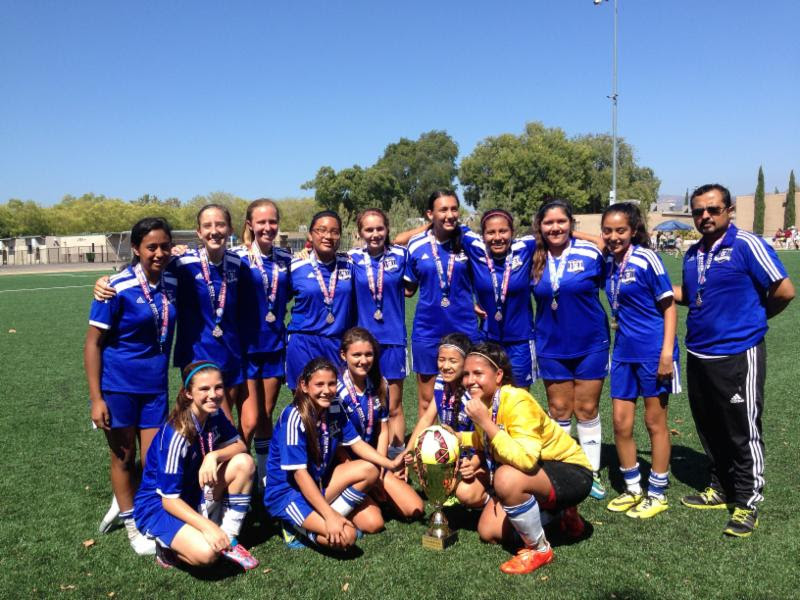 GU15 Team coached by Hector Ochoa – Barca Champions
BU12 Team coached by James Griffin – Hotspurs Champions
BU9 Team coached by Julio Alfaro – La Jolla Classic Champions
BU15 Team coached by Denis Sweeney – Hotspurs Champions
Thanking our China Sponsor John Lococco of Soccerloco
FC HEAT TROPHY COUNT TO DATE:
CHAMPIONSHIPS – 52
RUNNERS-UP – 36
In 2014 we captured 40 Championships and appeared in 30 finals.
This year our Goalkeeping Clinics by Felix and Romero have been very popular. This is open to all goalkeepers and runs on Wednesday evening from
5.30 pm to 6.30 pm
–  younger keepers and
6.30 pm – 7.30 pm
– older keepers.
Also popular is Bo Plavan's class, one of our competitive players is teaching a goalkeeper clinic for U12's, please review the link:
Our BU15 Sweeney Team has their Applebee's Flapjack Fundraiser on Sunday, October 11th from
8-10 am
at the San Marcos location.  Tickets can be purchased at the door.  $10 per person for a delicious plate of pancakes, eggs, and sausage, with coffee and orange juice too.  It is a private breakfast for ticket holders only.  The players will be the hosts, servers, kitchen help and bus boys.  It's a lot of fun to watch! The BU15 team will earn 50% of total ticket sales.  They appreciate the Club's support!
They are also selling subscriptions for the
Sunday
 edition of the Union Tribune – two years for only $2 total!  They will also have full week access to the paper's website and app. New subscribers only. Interested parties should email Michaela Krams by 9/15 if interested.  
Michaelak@theideabrand.com
 LA GALAXY TICKETS AT SPECIAL CLUB PRICES
To purchase tickets or if you have any questions please contact: