Hello Escondido Soccer Club and FC Heat families,
In this edition of the newsletter you will find quite a lot of information that you may need to review more closely. All of this is available on our Websites: FCHeat.org and EscondidoSoccerClub.com.

Our End of Season party and celebration was a huge success. Scheduled on the Friday where Monday through Thursday poured down rain, we finally got lucky. Even though it was chilly and windy, hundreds of families showed up for drinks, tacos and music and the kids enjoyed scrimmage games against the coaches.
This day epitomized the kind of club Escondido Soccer Club and FC Heat has become. The home town based, family club for the children and families of our city.
This was a day to recognize our players and the families that drive them (no pun intended). It was a time to see the people and staff behind the scenes who keep our club moving forward. And it was a time to recognize the high achievers in all categories. Without all of the above, we would just be a run-of-the-mill style soccer club – This was a day where we were able to celebrate our success together and join in the fun and camaraderie, and absorb the smiles and laughter of our children.
The Awards List…
FC Heat Manager of the Year was Kristin Fox and Volunteer of the Year was Tracy Wright. Jessica Escobedo was Board Member of the Year and Coach Bryan Wilkes was Coach of the Year with Roger Rolim de Moura as Runner-Up.
A special Cornerstone Award was presented to Coach Jose Valle for his dedication and service to the youth of our club. A card that accompanied his trophy said this;
"The corner stone of any building is by far the strongest point. A building is built from the ground up with deep and strong foundations to uphold the test of time.The Cornerstone Award uses this as a mission statement in the lives of our children.
The award is given to an outstanding member of FC Heat Elite & Escondido Soccer Club who demonstrates by example these fundamental meanings and beliefs. The recipient of the Cornerstone Trophy is an exceptional humble, human being who demonstrates and teaches by example life's lessons, setting high standards, strong ethics, great values and solid beliefs in doing the right thing in life. All of our children, young or old, benefit from the lessons taught by the recipient of this award."
Congratulations to you all – and to every player in the Heat Competitive Program, you are all winners!
Presentations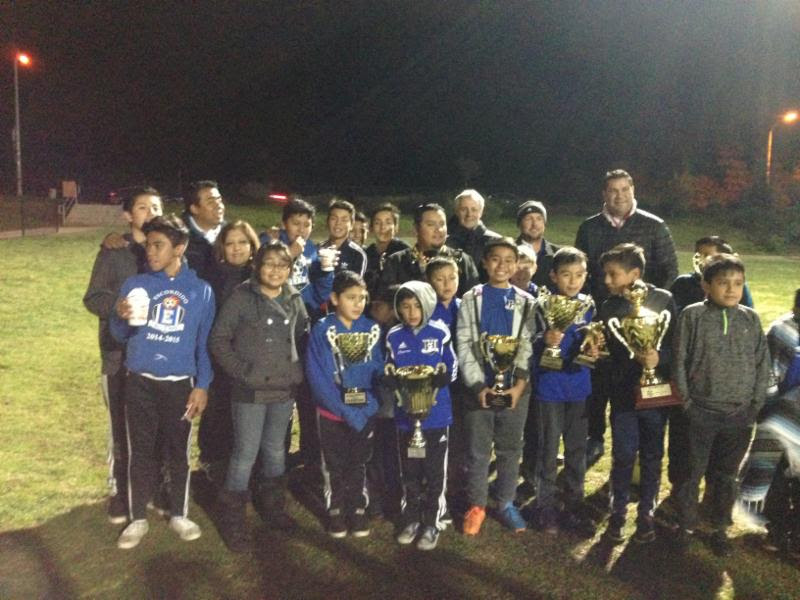 Martin Lopez and Boys
A proud Jose Valle with Junior Fernandez & Daniel Zin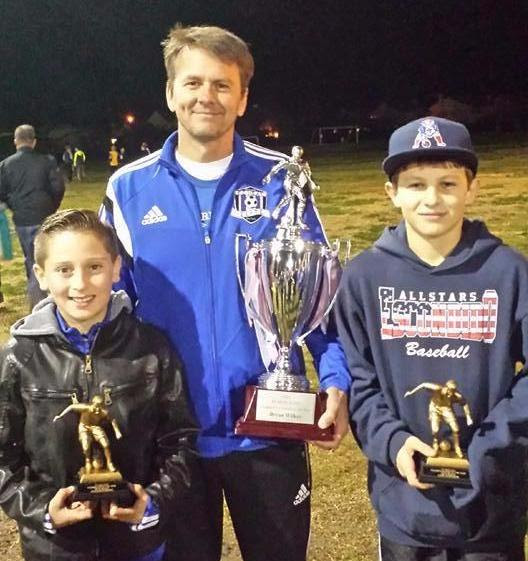 Coach of the Year Bryan Wilkes with Joaquin Romero
& Luke Hanson
COMPETITIVE TRYOUTS FOR YOUNGERS
Due to the age matrix changes this year we faced many challenges with our younger tryouts. But we were not alone as every other club in the US faced the same scenario.
Quite a few emotions came into play as many existing teams were literally split in half, one half moving older and the other half staying the same. In some instances, where some players were playing up two years, it actually split the team into three. This in itself scattered already experienced players to different teams, where it then became tough to name an A and a B team. In some cases we had many players of one birth year and in others we had very few. Some players were equipped to play up one year, but very rarely two years. A player playing up two years had to have exceptional skills and be physically able.
We were well prepared however, with coaches in place for as many teams as we projected, and our goal was to find a team for as many players as we possibly could. This was a lot of work.
The attendance for tryouts was excellent as word is obviously spreading about the kind of experience that players are enjoying at FC Heat, and that plus the exorbitant costs at the bigger clubs are sending many more new players to home based clubs like ours.
New coaches were allocated teams and experienced coaches were moved around in order to strengthen certain areas. This was mainly a result of coaches' evaluations, which you the parents were part of. This is part of fine tuning an already successful coaching model. 32 teams were built or are being built in the younger age groups, which does not include our older teams.
Many questions were asked by parents who did not quite understand the reasons for the new age matrix (this is why we wrote a previous newsletter on this subject). Some thought that teams had to be totally age pure with no players playing up, while others wondered why their children could not play with their friends as they have done so over the past few years, irrespective of their ages. Many parents would only have their child play for a certain coach and not another, which again spread the talent among different teams. You can only imagine the challenges we faced by trying to please the majority.
In any case, FC Heat is in good shape and ahead of the game this early in the year. 32 teams were built or are being built in the younger age groups. Our teams were strong last year, but I think they will be even stronger this year. As mentioned, this does not include our older teams, as those tryouts will be in March when our high schools have finished their seasons. Please stay tuned to our Website for the dates of the older tryouts, which will be posted soon.
With tryouts being so early this year, it is possible that your child may have missed them. If this is the case then below is a list of our younger teams that are still looking for players. Just e-mail the coach and have your child join their practice as a tryout. We have plenty of time before our season starts.
One of our own needs your help…
Jacob George played recreational soccer this last season for Coach Mark Memmelaar's  Empire team. He played for the BU12 bracket even though he is only 10-years-old.
Mark said this about Jacob, "He played goalie and forward.  He didn't love playing goalie, but he was good at it and always willing to do so if asked.  And that was a big part of this team's success last season.  Jacob still managed to score 2 goals in his times as a forward.  He is quiet but fearless and deceptively strong.  A really friendly kid and always happy."
Thank goodness Jacob is fearless and strong, because on January 20, 2016 he was diagnosed with Acute Lymphoblastic Leukemia. Obviously he and his family were taken by surprise, but while all are still in shock, they continue to fight this enemy head on.
Well Jacob, we have your back!
To follow Jacob's fight and to help, please click on this link:
This is an update that keeps family and friends aligned with his daily progress.
Spring League Update…
As most of you already know, our first weekend of Spring Soccer was abandoned due to rain. The weather this week should be favorable, so keep your fingers crossed.
Spring League registration is still open. All divisions open, except for 2008-2009 boys. Online registration link:
Spring Schedule:
The first trophies of the season…
Brian Wilkes B2007  – SDSC Champions
Denis Sweeney & Sebastian Oros B2005 – Carlsbad Premier Finalists